Florida's West Coast Cities Top WSJ/Realtor.com's Housing Index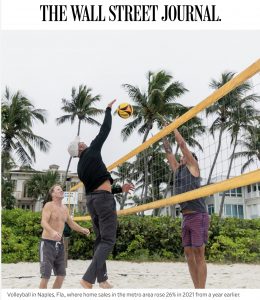 Florida's West Coast Cities Top WSJ/Realtor.com's Housing Index
Naples and Other Florida's West Coast Cities Top WSJ/Realtor.com's Housing Index
Naples led the fourth-quarter rankings, as the Sunshine State attracted home buyers looking to work remotely near the beach
Cities on Florida's west coast climbed to the top of The Wall Street Journal/Realtor.com Emerging Housing Markets Index, boosted by the growth of remote work and warm weather in the Sunshine State.
High-end markets and vacation spots dominated the ranking in the fourth quarter. Luxury-home sales have climbed in the past year as wealthy households benefited from stock-market gains and low borrowing costs. Warmer markets are also typically active in the winter months, when home sales slow in colder states.
Naples, Fla., was the top-ranked market for the quarter, followed by North Port, Fla.; Kahului, Hawaii; San Luis Obispo, Calif.; and San Jose, Calif.
Three other Florida markets—Cape Coral, Punta Gorda and Sebastian, a city on the state's east coast—also made the top 20.
U.S. home sales rose to a 15-year high in 2021 as home-buyer demand surged because of low mortgage-interest rates. As more employees opted to work remotely, they were willing to move farther from their jobs in search of a lower cost of living or different lifestyle.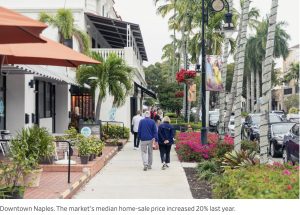 Florida has been a major beneficiary of this migration, and economists expect home-buying demand in the state to remain strong. Zillow Group Inc. named Tampa its hottest housing market for 2022, and Redfin Corp.'s list of the 10 hottest neighborhoods for 2022 included eight in Florida.
The Wall Street Journal/Realtor.com Emerging Housing Markets Index identifies the top metro areas for home buyers seeking an appreciating housing market and appealing lifestyle amenities.
The top-ranked markets in the fourth quarter had faster home sales and more shopping interest from international buyers than the market as a whole, said Danielle Hale, chief economist at Realtor.com. News Corp, parent of The Wall Street Journal, operates Realtor.com.
See all Homes for Sale in Riverstone in North Naples Florida at www.RiverstoneGuide.com
The WSJ/Realtor.com Emerging Housing Markets Index Winter 2022
Metro areas are ranked according to real-estate market data and economic health. Ranking is as of January 2022.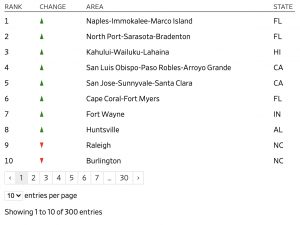 In the Naples area, which has a population of about 393,000 residents, home sales in 2021 rose 26% from a year earlier, according to the Naples Area Board of Realtors. The median home-sale price for the year rose 20% to $445,000.
Naples and nearby cities in southwest Florida are known for their golf courses, water sports and miles of white sandy beaches.
"Naples was always a luxury area, but it was, I think, a well-kept secret," said Realtor Denny Bowers, at Compass in Naples. "That secret is out, obviously."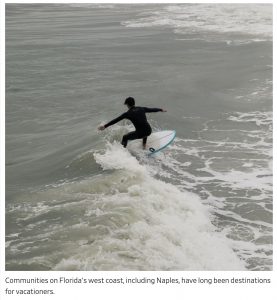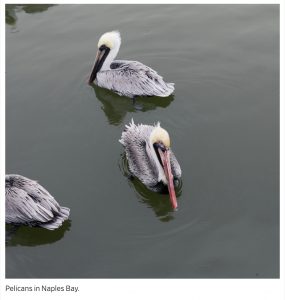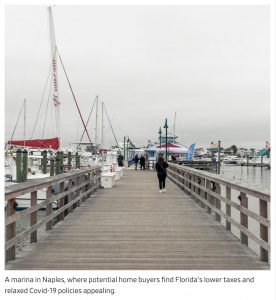 About 82% of page views on Naples-area property listings came from outside the metro area in the fourth quarter, according to Realtor.com. The top metro areas for interest in Naples listings included places with colder winter climates, such as New York City, Chicago and Boston. But nearby—and more expensive—Miami was second, after New York.
Midwesterners have long vacationed on Florida's west coast, Mr. Bowers said, but he is now seeing more buyers from the East Coast and California.
Some households that were planning to move to Florida upon retirement have moved up their time lines, either retiring earlier than planned or working remotely, said Brenda Fioretti, broker associate at Berkshire Hathaway HomeServices Florida Realty in Naples.
"In years past, if you left the Northeast and came to Naples, you would take about a 50% pay cut, and that's the price you paid to relocate here," she said. "But now that's not necessary."
Learn About Bundled Golf in Naples Florida at www.BundledGolfGuide.com
Households have also been drawn to Florida's lower taxes and relaxed Covid-19 policies, she said.
Tim and Megan Cook decided to move from Illinois to Florida in late 2020 because they wanted their teenage daughter to be able to attend school in person and spend more time with her grandparents, who live in Florida. They sold their house near Chicago in December 2020 and bought a home in Naples. They are now planning to move to nearby Bonita Springs to be closer to the beach.
"On June 1 of 2020, if somebody said, 'You are going to be living in Florida by December,' I would have been like, 'You're crazy,' " Mrs. Cook said. "Thank gosh we did what we did."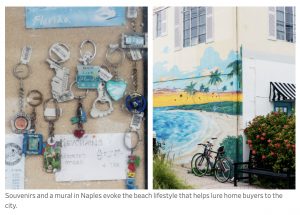 Not everyone expects Florida home prices to keep charging higher at this rate. Lakeland, Tampa and Fort Myers are the most overvalued housing markets in the state, according to an analysis from Florida Atlantic University and Florida International University.
"I think we're going to see a slowdown" from last year's price growth as mortgage rates continue to rise, said Ken H. Johnson, a real estate economist at Florida Atlantic University. But he doesn't expect prices to slump in those areas, because of the strong projected population growth.
"People are moving to the state in massive, massive numbers," he said.
Some highly ranked destinations in the index in the third quarter slipped. Elkhart, Ind., Rapid City, S.D., and Topeka, Kan., surrendered the top three spots from the previous quarter and fell out of the top 10 after their price growth remained closer to the average and their homes were on the market for at least two more weeks.
See All Island Walk Homes For Sale in North Naples
The Wall Street Journal/Realtor.com Emerging Housing Markets Index ranks the 300 biggest metro areas in the U.S. In addition to housing-market indicators, the index incorporates economic and lifestyle data, including real estate taxes, unemployment, wages, commute time and small-business loans.