Learn About Briarwood Homes in Naples Florida
Learn about the Different Types of Briarwood Homes in Naples Florida including single family homes, including 452 Single Family homes, 55 Townhomes in Dover Parc, and 80 Condos in Dover Place for a total of 587 homes.
Briarwood is superbly located and Briarwood Homes have easy access in Naples Florida to airports, hospitals, shopping and dining, 5th Avenue, Downtown Naples, Olde Naples, Naples Pier, Downtown Galleries and Shoppes, and of course our World-Class, sugar Sand Beaches! One unique feature of Briarwood is something that is shares with less than a handful of communities in Naples it it's rental policy. Briarwood owners are allowed to lease their homes up to 52 times per year with a minimum length of lease of only 7 days which is almost unheard of in Naples. See all homes for sale in Briarwood at www.BriarwoodGuide.com
Briarwood Homes in Beautiful Briarwood Community in Naples Florida are great for airbnb and vrbo With an Awesome Rental Policy.  All the Briarwood Homes in Naples Florida except the two small enclaves Bella Lago and Sereno follow the same rental policy which is very advantageous if you wish to rent your home through www.vrbo.com or airbnb.com or some other method since you can rent your home 52 times per year with a minimum rental term of a week (7 days).  There are only a couple areas in Naples such as Naples Park, Willoughby Acres, Golden Gate City and Golden Gate Estates where you are not bound by ,much more restrictive rental policies.
Briarwood is a beautiful gated community located In Central Naples approximately 3 and a half miles to 5th avenue and The World-class Shopping, Dining, and Galleries of Downtown Naples, and just over 3 Miles to Lowdermilk Park and many of our other pristine beaches.
The main guard gate for Briarwood is located off Livingston Road, just north of Radio Road, and Briarwood Residents Also Enjoy a Secondary Entry/Exit on Radio Road. Naples Airport is only a mile and a half from Briarwood, and Southwest Florida International Airport is only 25 miles north with easy access to I-75 at Exit 105 which is Golden Gate Parkway.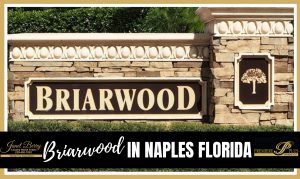 BRIARWOOD HOMES IN NAPLES FLORIDA
Briarwood is made up of 587 Homes which consists of 452 Single Family homes, 55 Townhomes in Dover Parc, and 80 Condos in Dover Place. There is a small enclave of Single Family Homes in the North East area of the neighborhood on Tivoli Drive called Bella Lago which contains some of the newer homes in the community, including one that has just been completed (02-2022) and is still waiting for the Certificate of Occupancy (CEO) Many of the homes in Briarwood enjoy direct lake views surrounding one of the 9 lakes in the community, and other homes have preserve views.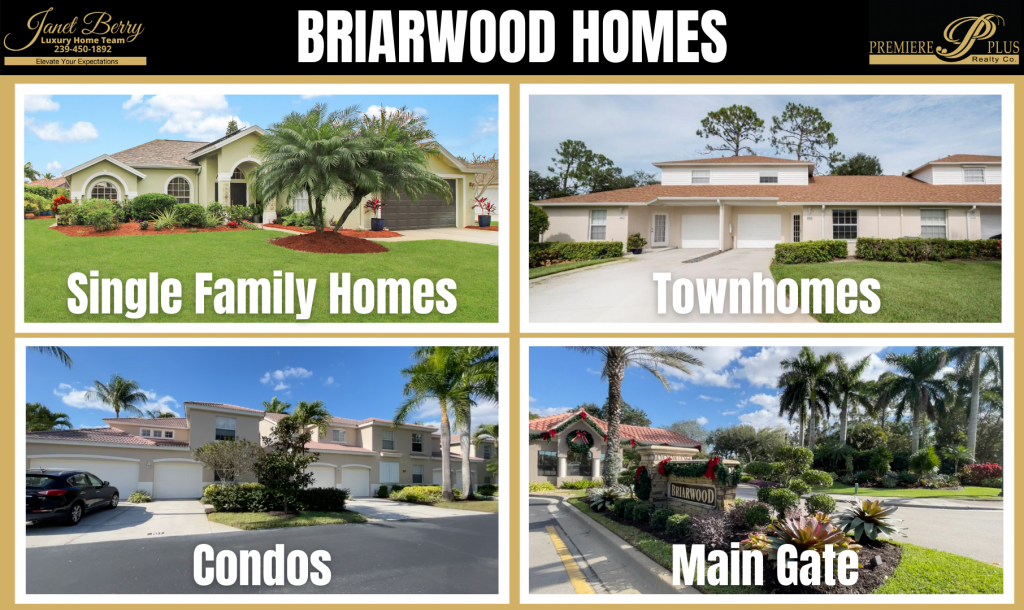 BRIARWOOD STREET NAMES IN NAPLES FLORIDA
The streets in Briarwood in Naples are (in alphabetical order) Briarwood Blvd, Briarwood Court, Brixton Court, Coldstream Court, Coldstream Lane, Dover Place, Dundee Court, Marble Drive, Mount Hood Court, Sunbury Court, Terrazzo Lane, Teton Court, Tivoli Court, Tivoli Drive, Tivoli Lane, Vintage Court And Vintage Lane.
BRIARWOOD AMENITIES
Briarwood has a Clubhouse, two heated community pools, tennis courts and pickleball courts, basketball court, beach volleyball, and a children's play area.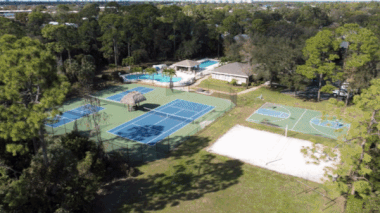 The Rental Policy in Briarwood is Truly One Of The Most Favorable Since Owners in Briarwood Are Allowed to Lease Their Homes on a Weekly Basis, Up To 52 Times Per Year, With a Minimum Lease Term of 7 Days. NOTE: In The Bella Lago and Sereno Enclaves of the Community, The Minimum Lease Term is 30 Days, and 12 Leases Per Year. No Leases May Be Longer Than One Year in Duration.